Santa Fe is known for being a city full of culture, history, fun, and artistic experiences. This combination makes the city a fantastic shopping experience. From familiar stores you know and love to one-of-a-kind boutiques with goods crafted by locals, there is a downtown Santa Fe shopping experience to suit every need.
Here are some of the local favorite shopping options in Santa Fe:
Sign of the Pampered Maiden

209 Galisteo St, Santa Fe, NM 87501
Sign of the Pampered Maiden
is the perfect go-to spot if you're on a retail therapy mission. Here, shoppers can find an array of fashion-forward items to fill their closets, with everything from jackets to dresses, skirts, bodysuits, and unique kimonos. This hip boutique also offers jewelry, some from local artists, to accessorize your look with a bit of shine and glamour. Shoppers will love the fashionable designs including the shop's collection of purses, handbags, scarves, belts, and other unique accessories. Top designers include Johnny Was, Sapahn, Pistola, Cino, Line and Dot, and Spanx, and the shop also features local designers Bucko, Cynthia Jones, and Klay & Co. Sign of the Pampered Maiden also hosts private events perfect for a shopping outing with friends.
WearAbouts

101 W Marcy St #3, Santa Fe, NM 87501
If it's a contemporary style you're after, look no further than the ultramodern shop
WearAbouts
on Marcy Street. Since 1986, this popular boutique has been renowned as one of the top local spots for a shopping spree, with an array of trendy, versatile, high-quality clothing items spanning the racks. WearAbouts offers fashionable designs from Kut from the Cloth, Mauritius Leather, Michael Stars, Cino, Brodie Cashmere, Rails, LA Made, and much more, so you are sure to find whatever you are seeking to upgrade your style. WearAbouts also features an elegant collection of accessories from top designers Herndon Forge, Wyeth Hats, Chan Luu, Blue Pacific Fashion Scarves, and many others. At WearAbouts, you will have an experience updating your style and modernizing your closet!
Uli's Boutique

208 W San Francisco St # B, Santa Fe, NM 87501
Uli's
focuses on hot couture that combines modern fashion with inspiration from various other times and cultures. A staff of people passionate about fashion makes this boutique stand out. This is the place to go for an effortless shopping experience akin to having a personal shopper. If you need more time or personalized recommendations, they offer you the option of hiring a professional style consultant. This is a great way to stylize your wardrobe.
El Nicho

227 Don Gaspar Ave # 3, Santa Fe, NM 87501
An aesthetically pleasing gift shop,
El Nicho
has been a staple in the Downtown area of Santa Fe for over thirty years. The shop specializes in hand-crafted pieces of high-quality folk art and is favored by locals and visitors. Exclusive items in the store are ethically and carefully made by hand. Every item in the store is considered rare. Pieces are purchased directly from the artists that create them, so quality is never compromised.
El Nicho has been listed as the best souvenir shop in the city, and the title is fitting. Collectors of rare art pieces, sculptures, figurines, jewelry (and anything else your heart may desire) find reprieve in the colorful store. With work featured by so many artists, it is possible to find pieces that blend different art styles and mediums.
Santa Fe Dry Goods, Workshop & Wildlife

53 Old Santa Fe Trail, Santa Fe, NM 87501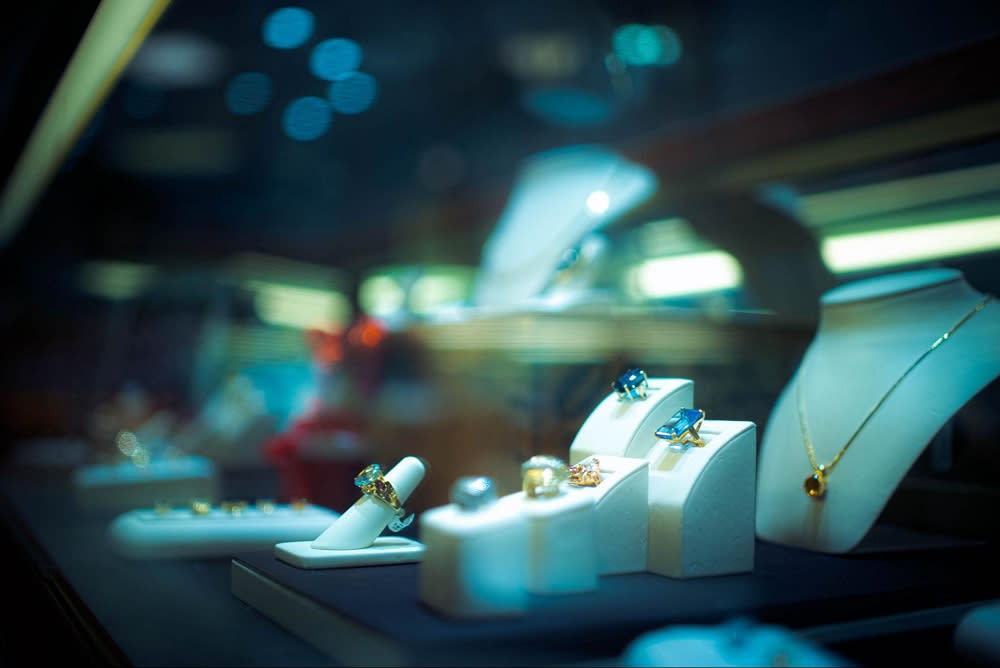 Photo courtesy of Unsplash
This high-end boutique is a culmination of jewelry, home furnishings, and clothing, all created by fine designers with even finer materials.
Santa Fe Dry Goods
aims to encompass artists' worldly talent and intention, and it does so well. Pieces range from colorful and patterned to demure and neutral, so finding something to suit every taste and occasion is effortless. A selling point of the store is the variety of designers offered in the boutique. Names like Taschen, Nobue Ibaraki, and Akiko Hirai have been known to feature their collections here. And because the store features a consistently changing offering of designers for any given season, there will always be new pieces to enjoy and inspiration to muse upon. Jewelry is a popular commodity of the store, with pieces made with fine gems, intricate patterns, and the highest quality precious metals.
Santa Fe Artists Market

3201-C Zafarano Dr #285, Santa Fe, NM 87507
In addition to its dozens of excellent boutiques, Santa Fe features over 100 art galleries. The city has long been known for its art scene, evidenced by impressive galleries and the several festivals it hosts yearly. The
Santa Fe Artists Market
stands out as an exceptional place to view and buy local art. The Market takes place at the Santa Fe Railyard each Saturday from March to December. You can find art from many mediums and people from many places around the world. For many, the Santa Fe Artists Market is the point of departure for life in "The City Different."
These creative and unique shopping experiences pair perfectly with the creative atmosphere of the neighborhoods and homes for sale in Santa Fe, N.M. The historic charm and creativity reverberates throughout. If you are interested in calling
Downtown Santa Fe home
, contact Robyn Tyra today to begin the search for your new home. She enjoys working with homebuyers and sellers of residential, luxury residential, commercial, farm and ranch, and vacant land real estate.
*Header photo courtesy of Unsplash