The Land of Enchantment has, dare I say, some of the best food on the planet. From our classic New Mexican cuisine that is unique to NM to all the creative local restaurants that have emerged over time. It is difficult to only choose a few but these are 10 of my favorite restaurants in Northern New Mexico!
Rancho De Chimayo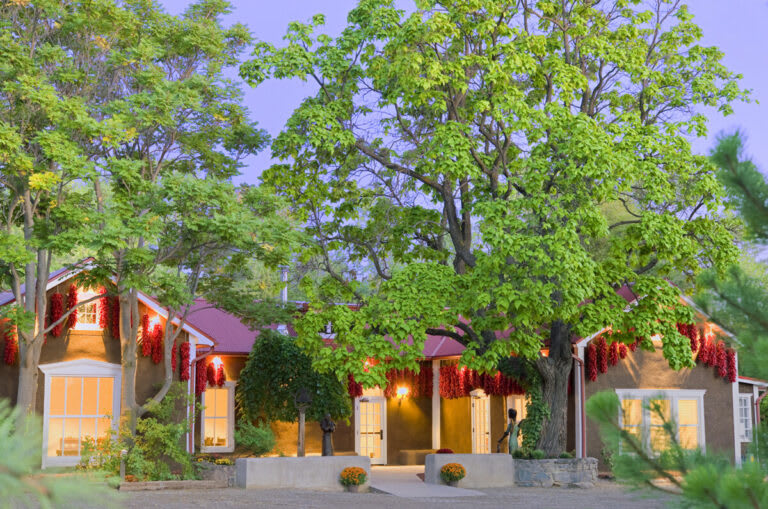 Rancho De Chimayo opened in 1965 and was the ancestral family home of Florence and Arthur Jaramillo. For decades they have used their own family recipes that have been handed down many generations. Female owner, Florence, is legendary for her amazing gastronomic creations, a warm personality and being vital in the role of bringing New Mexican cuisine into an international spotlight. Nestled into the small village of Chimayo, which is known for it's historic Santuario, offers the restaurant beautiful local scenery. Check out their seasonal menu on their website:
Rancho De Chimayo
.
Tesuque Village Market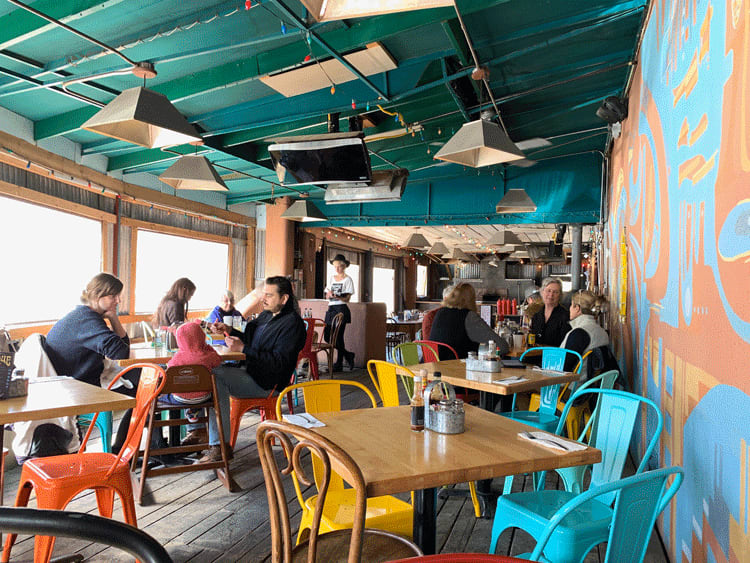 Tesuque Village Market is a personal favorite of mine since I live so nearby to it! The market is a unique combo of a general store and the local watering-hole. Find all the goods you might need to take home for later or drop in for an amazing meal with great company. You can enjoy their delicious food for breakfast, lunch and dinner! This local spot is the perfect place to gather with friends or even people-watch! Try the Blue Corn pancakes or Tesuque Market's World Famous Tortilla Soup plus check out their exquisite meat selections.
El Parasol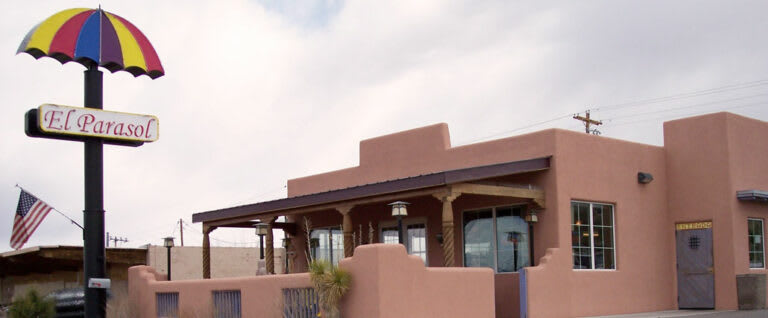 The El Parasol legacy started in 1958 with young Pedro and Lorenzo Atencio selling their mother's beef tacos and red pork tamales under a patio umbrella on the Main Street of Espanola, NM. Down the line, the mainly summer seasonal venture expanded into what was known as the Taco Wagon. A trailer converted into a kitchen much like today's food trucks. Then, later on, expanded further into the family's centuries old tack room which was converted into a formal dining area with a full-service bar. This restaurant kitchen was named El Paragua. The demand came later for a quicker option than the sit down El Paragua and El Parasol was born. Today they still serve the best tacos in all of New Mexico!
Campo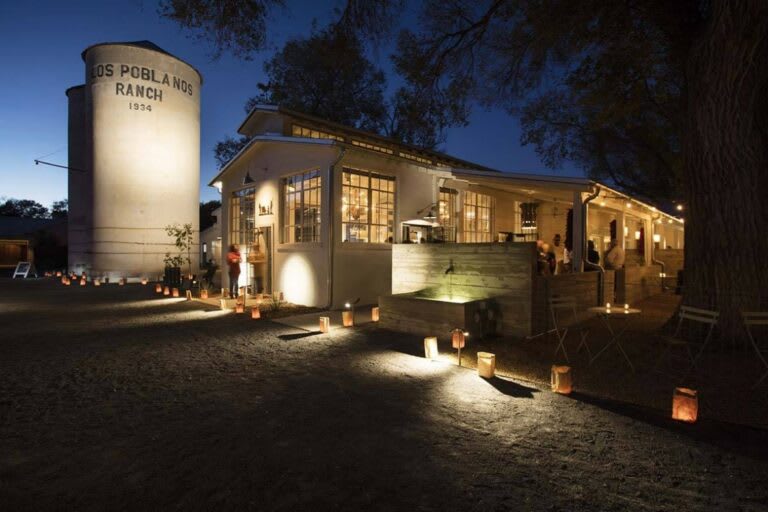 Have a luxurious breakfast or dinner at Campo, the in-house restaurant at the local Los Poblanos Inn! Recently added to the hotel, Campo features a seasonal menu that frequently changes and adds new specials. Campo is a true "field-to-fork" dining experience, using locally sourced and fresh ingredients from their own farm. Renovated and restored in the old dairy building, the environment is the perfect combination of both cozy and airy. Every bite from the gourmet menu is guaranteed to make your tastebuds happy.
The Shed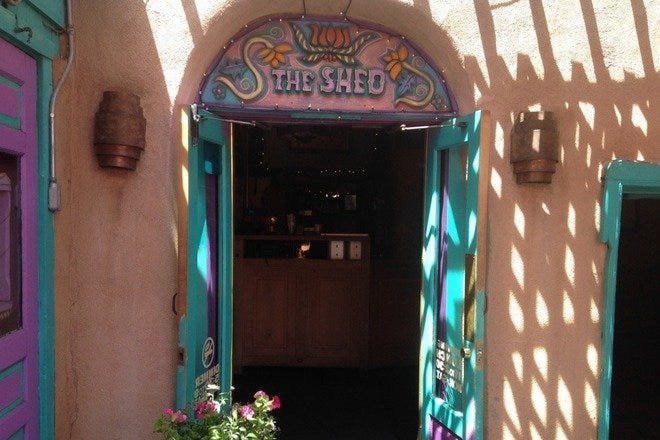 The Shed has been a local Santa Fe favorite since 1953. Located just off of the plaza on Palace Avenue you will find a brightly painted wooden sign that leads you to some of the best New Mexican food in the world. The restaurant consists of 9 small rooms, a beautiful flagstone courtyard that fills with flower blooms in the summer, and many low-hanging doors that date back many years. The menu offers world-renowned Red Chile Enchiladas and spectacular blue corn specialties. The Shed goes the extra mile, using only their farm-grown chile that they still grind by hand themselves for true New Mexican flavor.
Shake Foundation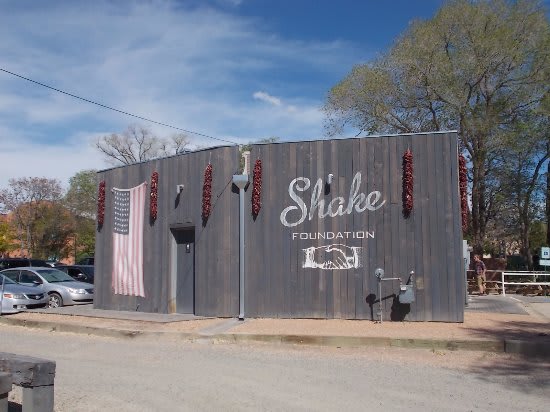 Shake Foundation is "dedicated to the preservation of the Original Green Chile Cheeseburger". Started in 2014, Shake Foundation does a truly great job of just that. Their all-natural burgers are made from a premium beef blend of sirloin and chuck and topped with spicy local green chile. The name doesn't say "shake" for nothing, they also serve delicious milkshakes made from organic milk and eggs. Every single burger is cooked with care and can be enjoyed on their patio with a huge helping of hand-cut shoestring french fries.
La Choza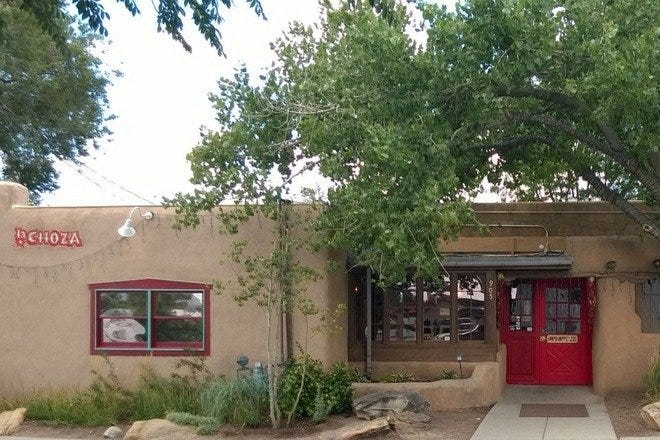 Voted the Best New Mexican Restaurant by the Santa Fe Reporter, La Choza is award-wining for a reason! Serving up some of the best New Mexican food in Santa Fe since 1983, La Choza upholds the NM tradition that has been handed down in their family for generations. The location is actually set in the old adobe headquarters of the Mercer Ranch and adds history to the friendly atmosphere that they create there. Find some of the best chile and margaritas on their menu!
The Range Cafe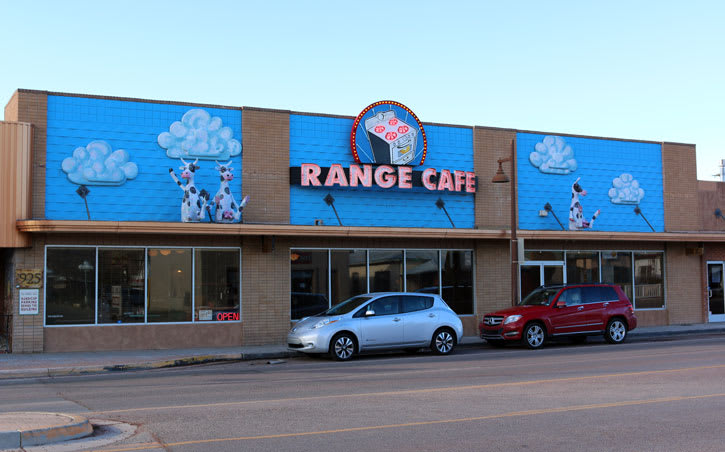 Originally, the Range Cafe started in 1922 and was based out of an old gas station that was converted into a dining space. In 1955, the original building was destroyed by a fire and was then moved to their current location in Bernalillo. Now with 6 different locations all around Albuquerque, the Range Cafe serves American Southwestern cuisine to hundreds of New Mexican's every day. The main restaurant includes a funky gift store, a wall of plates signed by dozens of celebrities, and a full bar called the Lizard Rodeo Lounge. They pride themselves on being locally owned and operated, as well as locally sourcing ingredients from nearby growers in NM. You are sure to find something for everyone on their menu but make sure to grab yourself one of their famous desserts before you go.
Lambert's of Taos

Lambert's was opened in the small town of Taos in 1989. Known for serving Contemporary American Cuisine, Lambert's food is fresh, local, and all made from scratch. Lambert's proudly sources its ingredients from many local farms and businesses in Taos. Local residents have awarded Lambert's with "Best Restaurant" and "Most Romantic" by the Tao's News Peoples' Choice Awards. Their menu focuses on the philosophy of everything being made from scratch no matter how long something may take.
Indigo Crow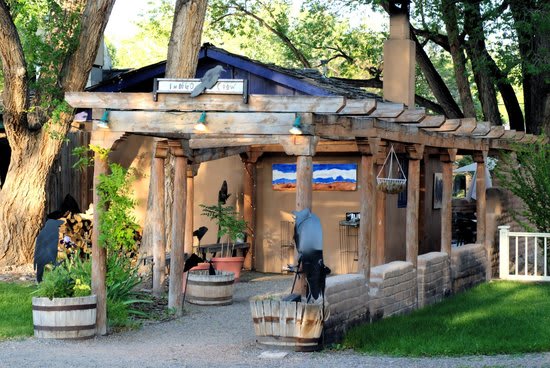 Indigo Crow is a bit of a locally famous place. Known for their upscale contemporary cuisine, Indigo Crow was called the "epitome of Corrales cool" by USA Today's 10 Best. The restaurant is settled underneath a large canopy of trees and set inside of what used to be a family home and also once locally famous restaurant the Desert Rose. Enjoy their cozy fireplace in the wintertime or sit out on their peaceful patio during the summer. Their menu is typically changed seasonally except for a few staples like the Brie En Croute with Apple Cranberry Chutney. Open for lunch, dinner, and even brunch on the weekends.